Hi there, I am Philipp. 👋
I work as a independent Webdeveloper, Frontend Architect and Consultant and have a strong passion for the web.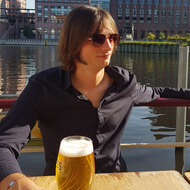 I built my first website back in 1999 and have been hacking on the web ever since. For the last 4.5 years I worked as the Frontend Lead for the web agency sgalinski, where I helped building fast and reliable web experiences, as well as establishing a robust and flexible infrastructure to make our team more efficient and our work more fun.
Feel free to drop me a line or hit me up on Twitter if you want to get in touch.